---
Elsmere Canyon, Santa Clarita, California
Website created and maintained by Stan Walker
---
View east down Elsmere Canyon
---
---
The Pico Anticline
Pico Canyon
Wickham Canyon
Dewitt Canyon
Lyon Canyon
Towsley Canyon
Wiley Canyon
Leaming Canyon
Rice Canyon
East Canyon
Tunnel Area
Whitney Canyon
Placerita Canyon
The Pioneer Oil Refinery (1877 - 1888)
The Newhall Oil Refinery That Never Was - Hart vs. Trumble (1928)
The Newhall Refinery (1930 - 1989)
Did Andres Pico Refine Oil for the San Fernando Mission in the 1850's?
Early Court Cases Pertaining to the Newhall Oil District
Stephen Peckham 1866 Oil Description of the Newhall Oil District
Jules Marcou 1876 Report on the Geology of a Portion of Southern California
1903 Claim map of the Newhall Oil Field
R. W. Walling 1934 Map of the Newhall Oil Field
Sources for this Website
Copyright Fair Use doctrine
---
Passes and Roads - The Old Road, Beale's Cut, Newhall Tunnel
Movies of Beale's Cut
Tick Canyon and the Sterling Borax Mine
Dry Canyon Dam and Reservoir
Live Oak Manor and the Stone Gate Way Arch
The Saugus to the Sea Road
The Trabuco Formation in the Santa Monica Mountains
---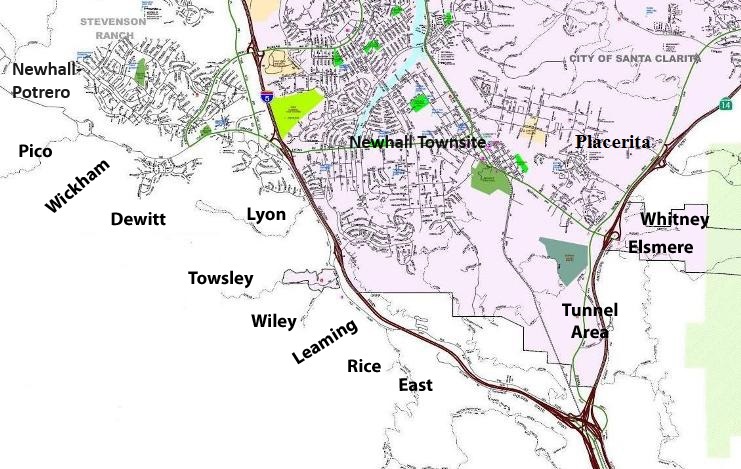 Location of the canyons. Pico, Towsley/Wiley, Rice/East, Elsmere/Whitney, and Placerita have parking areas and are open for public hiking.
---
Santa Clarita related websites (not affiliated with me):
Santa Clarita Valley History in Pictures
Santa Clarita Valley Historical Society
Geology of the Santa Clarita Valley - by Mike Ballard
Placerita Canyon
Community Hiking Club - Santa Clarita based
LAMountains.com
Hike Santa Clarita
Trails of Los Angeles County


---

stanw at earthlink dot net
---
Copyright © 2017 Stan Walker. All rights reserved.
All photographs, unless otherwise noted, are owned by Stan Walker


---