---
Odeen No. 1
---
At the end of the Pico Canyon road is Odeen No. 1. This was an exploratory well drill drilled by the Sante Fe Drilling Company for Union Oil Company. A standard 136 foot high rotary rig with a 24 foot base was used. Drilling started (the spud date) on 10/31/1951 and the well was completed on 4/25/1952 at a depth of 9215 feet. No oil was found. The well was officially abandoned on 6/27/1953. It is located on a large flat area with a spectacular views in all directions. The altitude is about 2800 feet. I am just guessing, but I believe that an "Odeen" owned the land and leased it to Union, hence Odeen No. 1.

Union Oil Company was founded on October 17, 1890 in Santa Paula, California, by the merger of co-founders Lyman Stewart, Thomas Bard, and Wallace Hardison's holdings. If you read the Oil Development in Pico Canyon webpage, you may remember that in 1884 Hardison and Stewart drilled the successful Star No. 1 well, which was located on CSO Hill, on land leased from the Pacific Coast Oil Company. They later sold that well to PCO, which would later become Chevron Corporation.

In 1901 Union's headquarters were moved from Santa Paula to Los Angeles. The original headquarters in Santa Paula is a California Historical Landmark and has a working full-sized (except without the top of the derrick) cable-tool rig. If you are interested in old rigs I highly recommend you visit this Landmark, which is now a museum ($4 to get in in 2006).

On August 10, 2005, Union Oil Company of California (Unocal) merged with Chevron Corporation and became a wholly owned subsidiary of Chevron.

Bill Rundberg lived in Pico Canyon from 1948 until 1953 and says:



"The Odeen wellsite was developed while we were in the canyon and was at the end of long drive from the rest of the oil field. We shared a party telephone line with them. By then there were no other parties. Our phone in the Pico Cottage was a crank magneto unit with no dial. One simply cranked, listened for the operator, then made a request. But the cranking of the magneto rang the phones of other parties on the line. My sister, an energetic teenager and frequent phone user, used to aggravate the workers on the drilling crew with her frequent and vigorous cranking."
---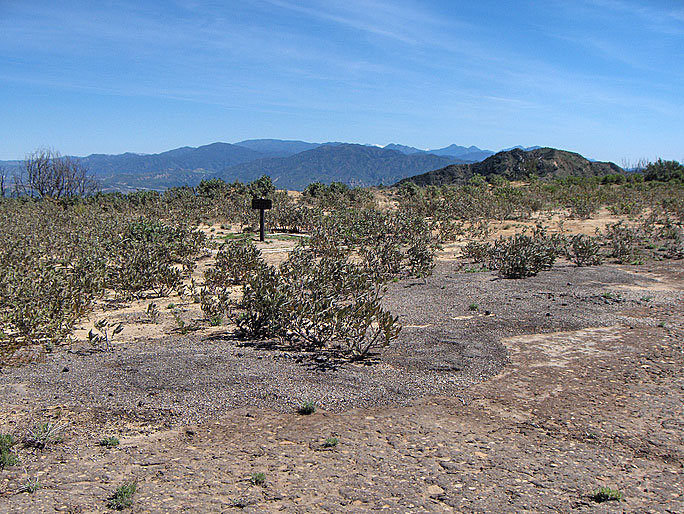 The well marker looking east
---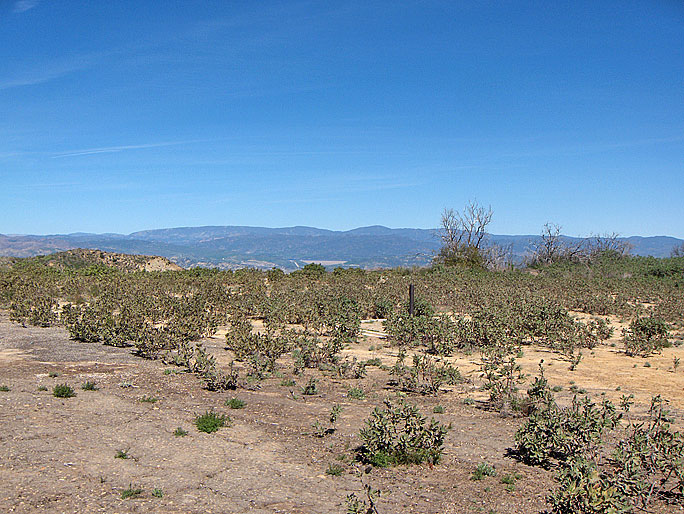 The well marker looking north
---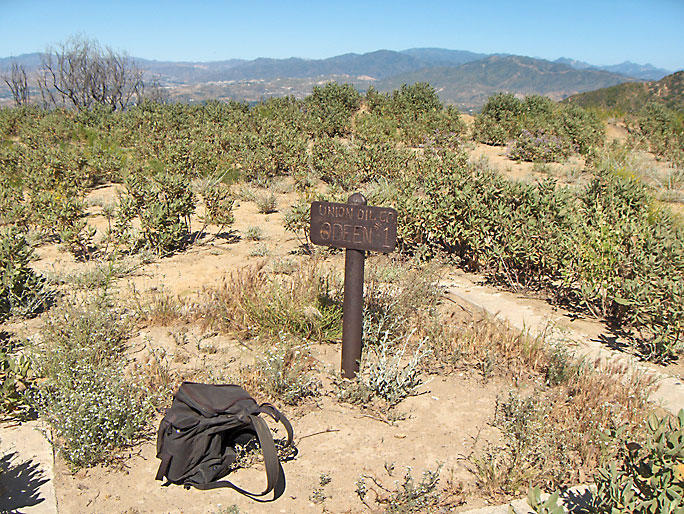 At the well marker
---
"Union Oil Co. Odeen # 1"
---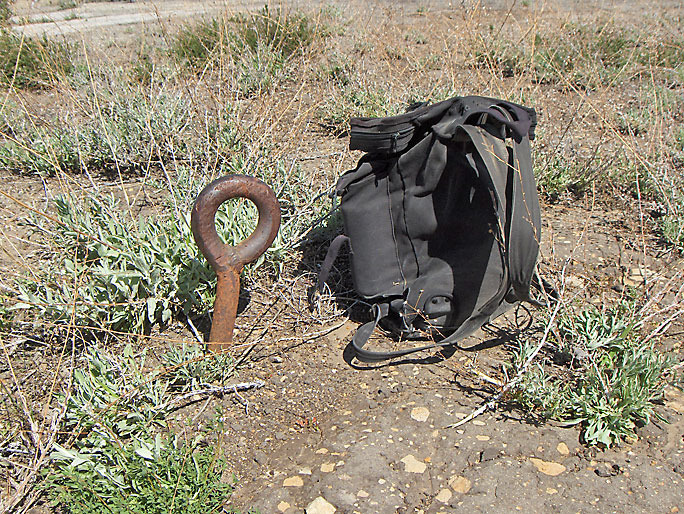 This hook was more than likely used to attach a guy cable to the derrick for suport. There must have been a lot of these around the derrick because it can be very windy up here and the derrick was 136 feet tall.
---