---
Rice Canyon Photos
---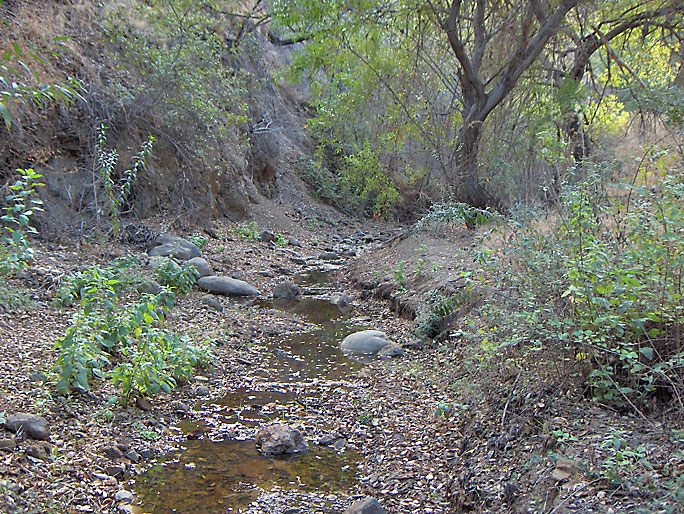 The creek still has water in many places at most times of the year (photo taken on 11/9/2008)
---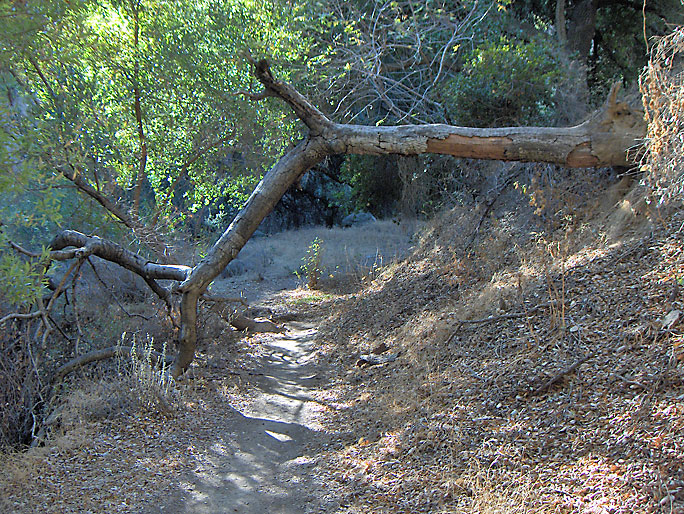 This fallen tree has formed a "door" (11/9/2008)
---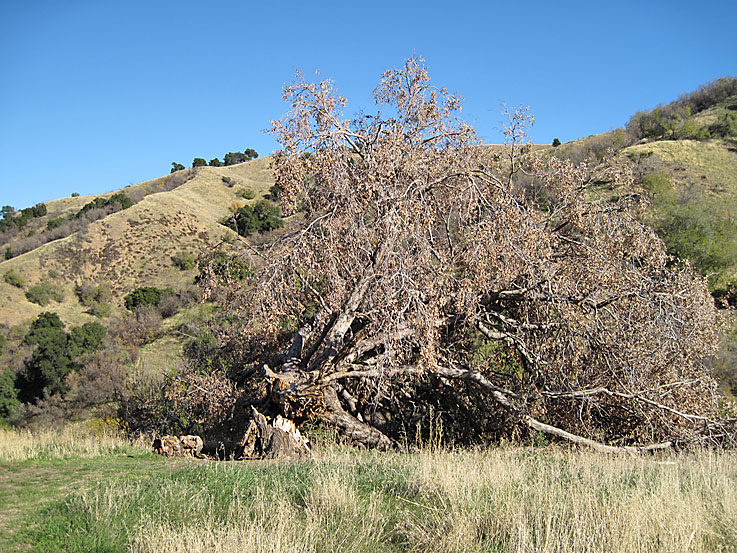 This fallen oak is at the official end of the trail (11/26/2009)
---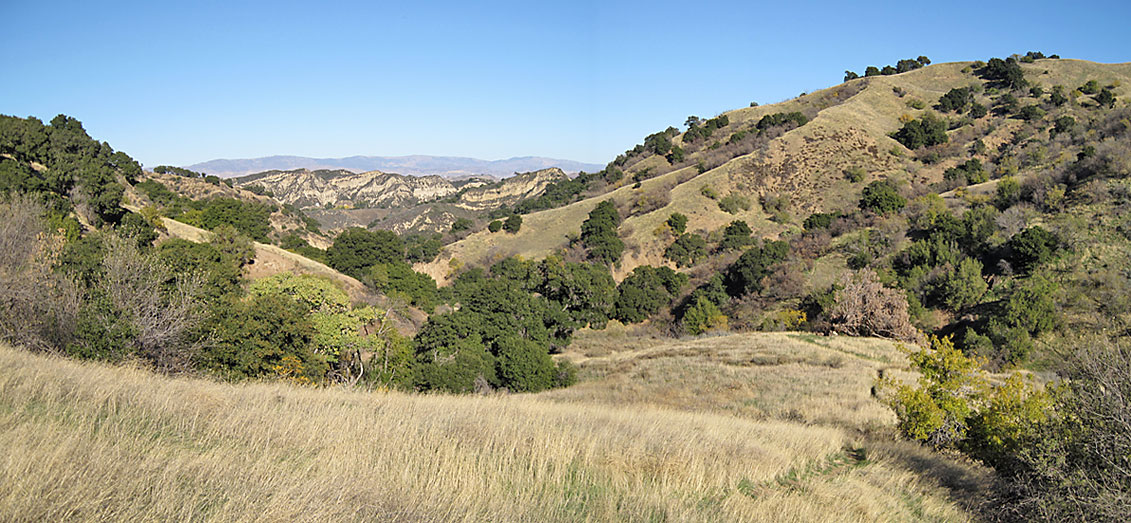 From farther away above the end of the trail looking northeast. If they were still there, you would see Rice 2 and Rice 3 oil derricks in this photo. On the right, you can see the fallen oak from the previous photo. (11/26/2009)
---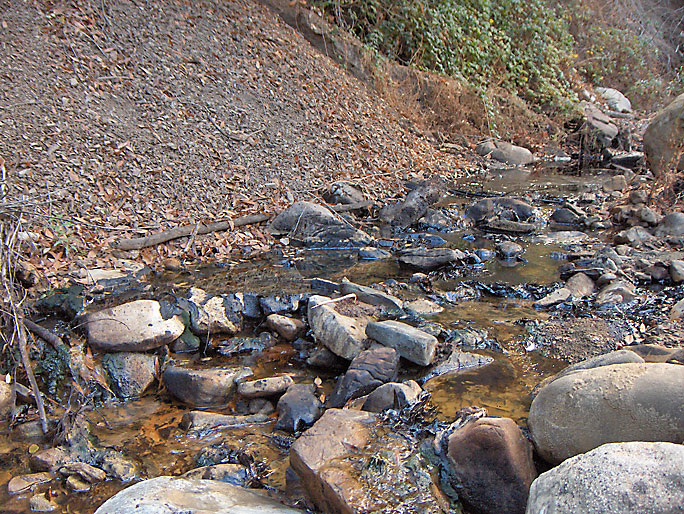 In many places the rocks in the creek bed are stained with oil (11/9/2008)
---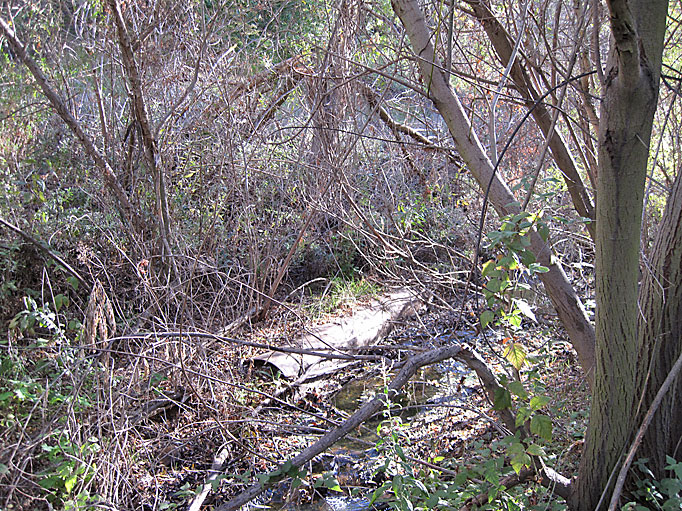 Old pipe in the creek bed (11/26/2009)
---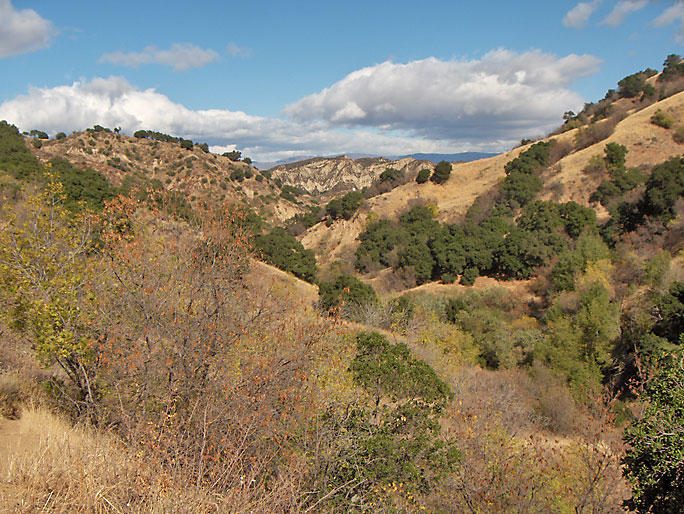 View north from the trail (10/26/2008)
---
High up and deep in the canyon looking north (10/26/2008)
---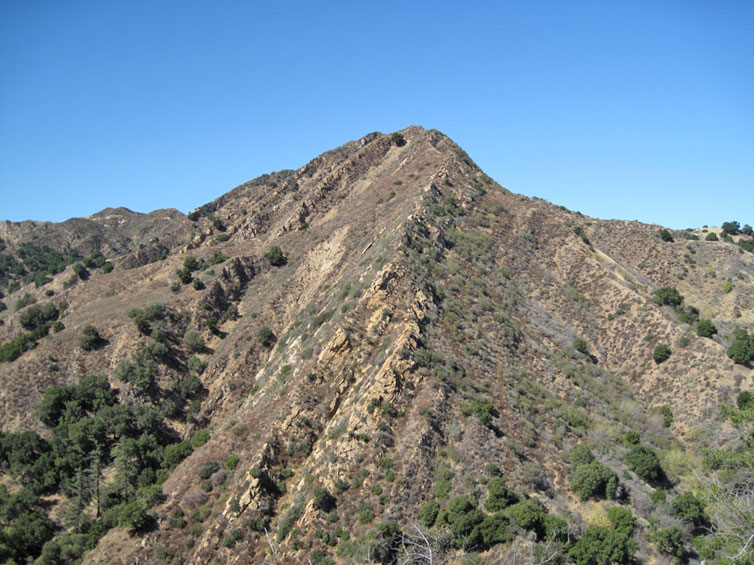 Highest peak overlooking the canyon on the east. The steep beds of the south flank of the Pico anticline are very apparent. (10/17/2009)
---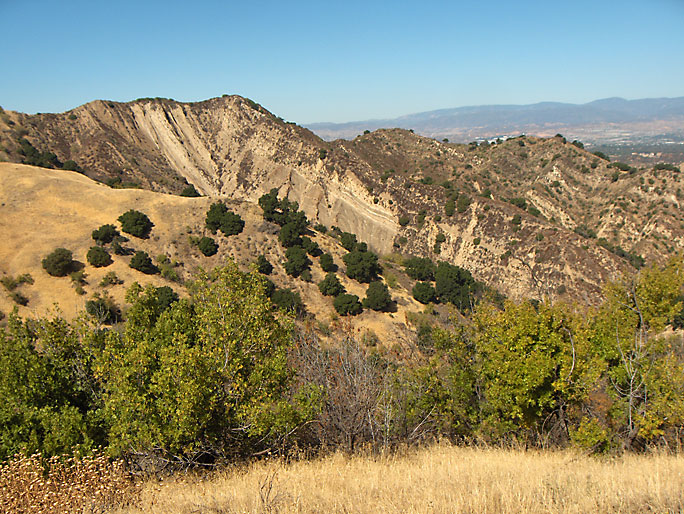 This view is looking north west at the first significant western tributary of Rice Canyon. From the trail you can't see these beds showing the north flank of the Pico Anticline. (10/26/2008)
---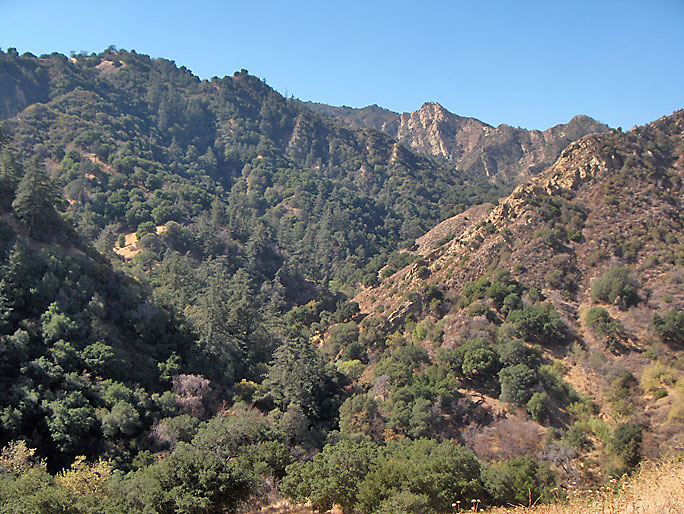 This view towards the west shows the western tributary at the second fork of Rice Canyon. (The first fork is at East Canyon.) The creek runs up the Oat Mountain syncline. The south flank of the Pico anticline is on the right (north) of the creek and the north flank of the Oat Mountain Anticline is on the left (south). In the distance you can see the the beds of the north flank. (10/26/2008)
---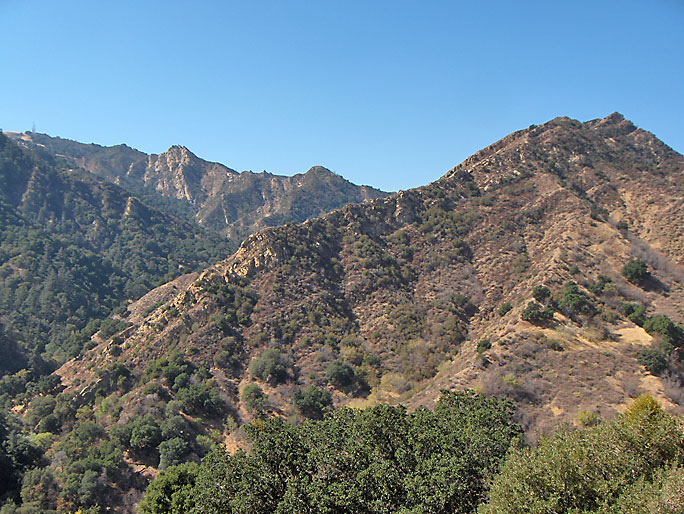 From a lower view than the previous picture you can see the south flank of the Pico Anticline in the foregrand and the north flank of the Oat Mountain anticline in the far background. Between them is the Oat Mountain syncline. (10/26/2008)
---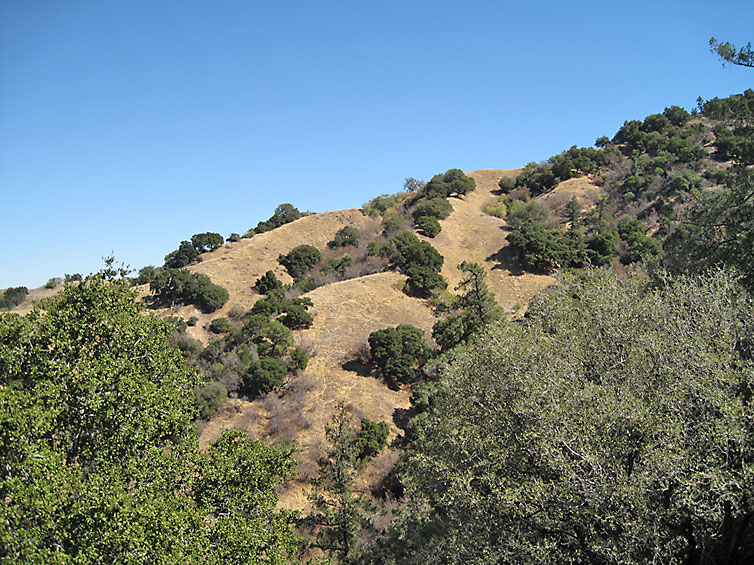 Looking up east from down in the canyon you can just see the top of the oak just off the East Canyon road where hikers rest under. It is about halfway up the slope. (10/17/2009)
---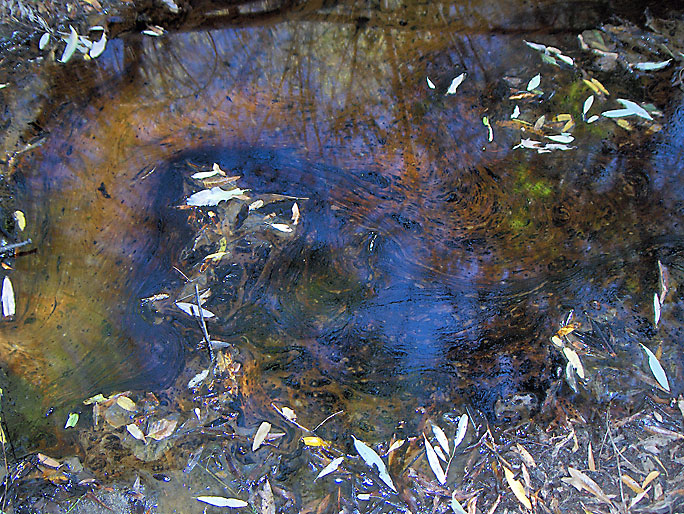 Oily water in the creek (11/8/2008)
---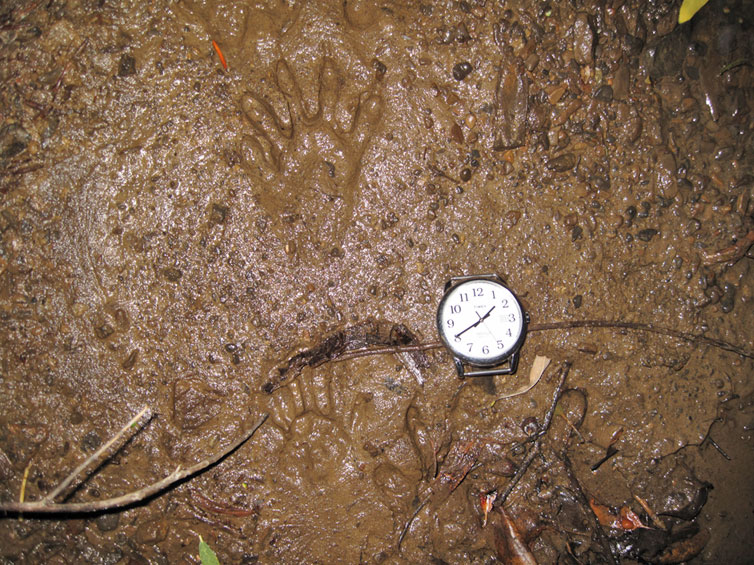 Raccoon tracks in the creek bed (10/17/2009)
---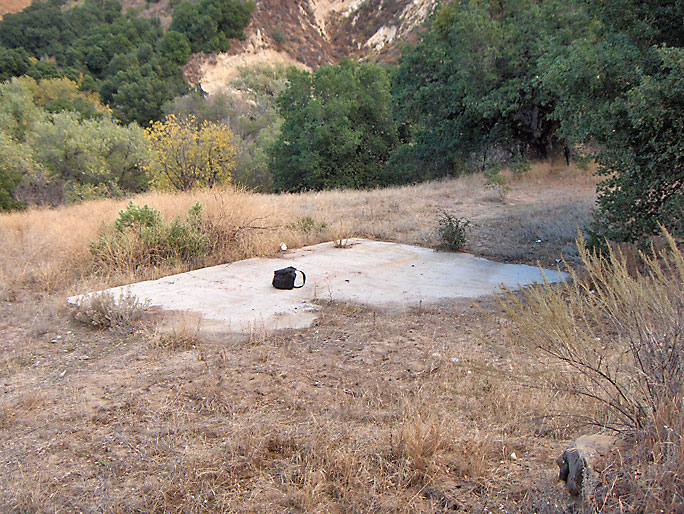 Off a side road is this foundation. There was a lot of ranching going on in the mouth area of Rice Canyon as you can see by the open areas and old fences. This may have been a house for one of the ranches. My black backpack is laying on the foundation. (11/9/2008)
---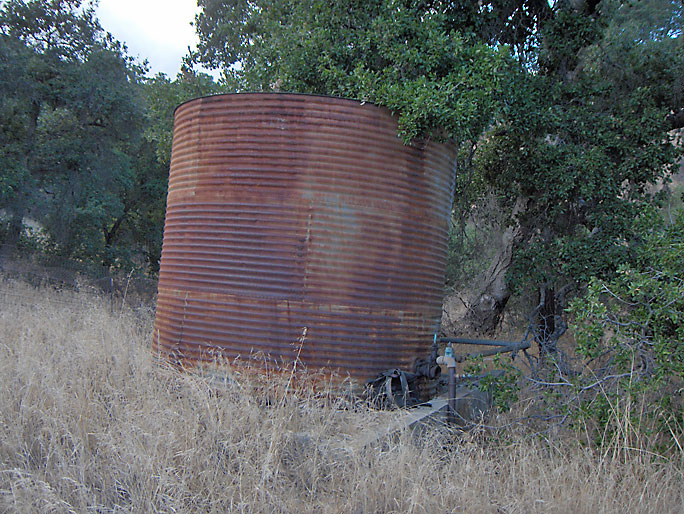 Above the foundation is this water tank (11/9/2008)
---
Man chased by bull - 8/16/1952
---
Here is a map from 1934 showing the Standard land (the old Rice claim) and the W.P. Rice (misspelled as Price) land. That W.P. Rice square is still privately owned.
---
On a topo map you can see the approximate outline of the land not owned by Standard. The Standard land is now owned by the Santa Monica Mountains Conservancy, but the private area is still private. That is why there is no trail from the East Canyon road shown on the right down into Rice Canyon.
---
Here is a map from the Santa Monica Conservancy website also showing that the land is privately owned.
---