---
Tunnel Area, Santa Clarita, California
---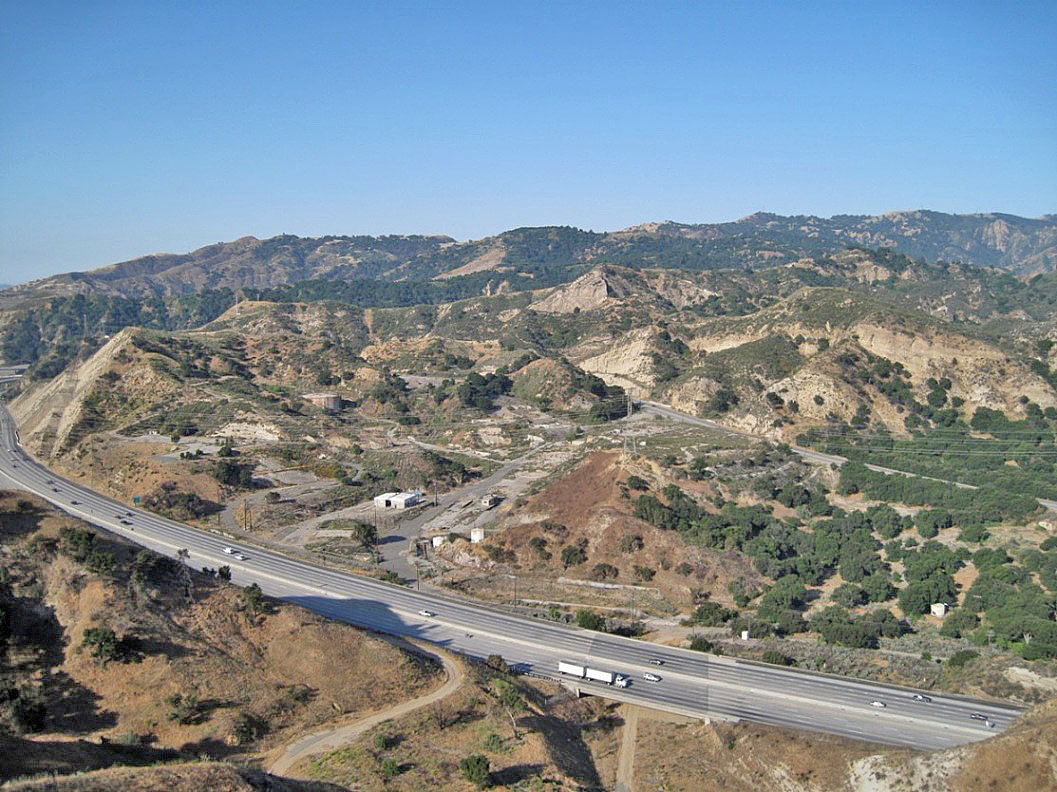 Looking southwest over much of the Tunnel area between Highway 14 and Sierra Highway. The abandoned Newhall Refinery is in the left middle of the photo. The Los Pinetos undercrossing is in the lower part of the photo. Photo taken 5-15-2009.
---
The Tunnel area lies in the land mostly between Sierra Highway and Highway 14 north of (and including) Beale's Cut and south of the Eternal Valley Memorial Park. However, it does extend east of Highway 14 and west of Sierra Highway (into Needham Ranch). The Tunnel name came from the fact that the area was near the north portal of the long-gone Newhall highway tunnel. Old maps show Newhall Creek following Remsen Road until the road curves to the west to the refinery. From there the creek headed up a canyon, now buried by highway 14. Now there is just a small creek there.

The old abandoned Newhall Refinery is a major feature of the area. The fact that the refinery area is contaminated and needs to be cleaned up is blocking development in the area which, ironically, makes it a good thing. Wildlife moving between the San Gabriel Mountains and the Santa Susana Mountains use the area and the Los Pinetos underpass as a corridor to safely cross under Highway 14 (although they still have to contend with crossing Sierra Highway).

In the early 1990's, Hondo Oil and Gas Company, the owner at that time, proposed a 117-acre office project, 44 of those acres on the refinery site. It was to include 860,000 square feet of office space and was predicted to provide 2,500 jobs. A 40-acre park was also to be set up to preserve Beale's Cut, also located on the land. The project would have to remove more than 20 percent of the area's 1,114 oak trees, but would leave a 500 feet wide corridor for animals. If approved, Hondo would clean up the refinery site.

The project was conceptually approved by the Santa Clarita Planning Commission in 1993 and approved by the City Council. However, sometime later in that year, Hondo cancelled the project due to the company's low cash resources and the poor real estate market conditions at that time. Hondo sold the land in 1999.

The property has changed owners at least once since then. The current owner of much of the land in the Tunnel area, probably including the refinery area, is Forum Engineering and Construction. It is now 2010 and there has been no cleanup at the refinery. More than likely it will be many years before any cleanup is started.

The Gate-King Industrial Park is a project that will cover the part of the Tunnel area west of Sierra Highway. That project was approved in 2003. Construction has now finally started (as of 9/2017) on phase 1, called "The Center at Needham Ranch".

---
---

Work progressing on the "The Center at Needham Ranch", phase 1 of the Gate-King Industrial Park project. View toward the northwest across Sierra Highway. The Live Oak Manor stone gateway is in the circle. (12-1-2017)
---