---
Brief History of Oil Development in Wickham Canyon
---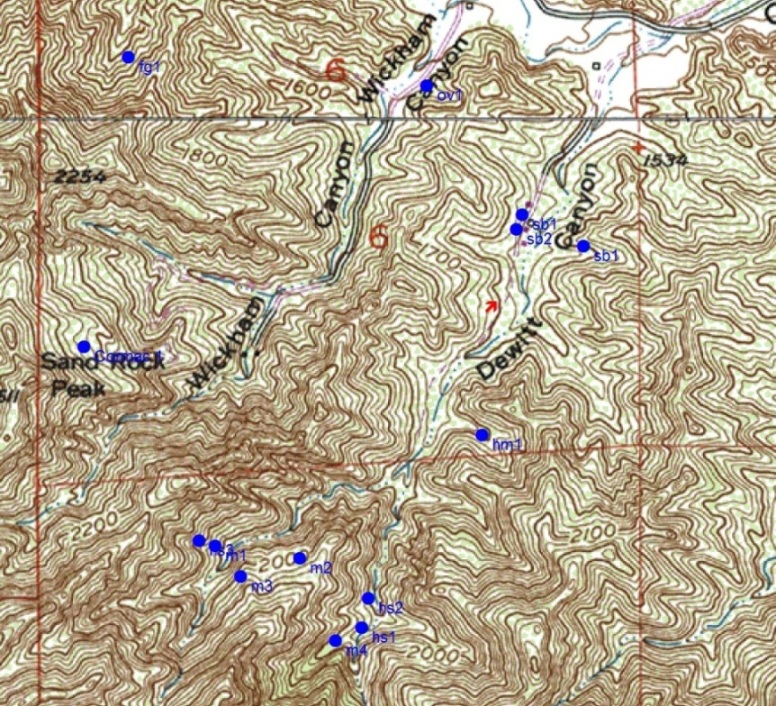 This topo map shows all the known well sites in Dewitt and Wickham Canyon. It also shows Pico (or Mentryville) on the top left. In the lower left hand part of the map is the well site of Odeen #1, located at the end of the Pico Canyon road.
---
No oil was ever commercially produced in Wickham Canyon. Some sources say that Wickham canyon is the west canyon of the Moore claim, but I believe that is not correct.

In 1866 Peckham reported that in the west canyon of the Moore claim "a horizontal tunnel thirty feet in length yielded an increased flow of light maltha." He also states that "The anticlinal of solid rock is here broken through for about one hundred yards in width, leaving the shale exposed in quite steep declivities." That pretty much describes the west tributary of Dewitt Canyon (although there is no exposed tunnel). It certainly does not describe Wickham Canyon. In fact, not too far past the Wickham homesite the canyon narrows substantially in a steep-sided canyon way before you reach any shale (see images on the photo webpage). It is very difficult to hike, let alone bring in oil equipment for a well.

The two known wells in Wickham Canyon are the Cormac Drilling & Production Company's Cormac 1 (just below Sand Rock Peak), drilled in 1954 and abandoned in 1955, and the Electrological Petroleum Corp.,LTD's Overman 1 (near the mouth of the canyon), drilled in 1931 and probably abandoned that same year.
---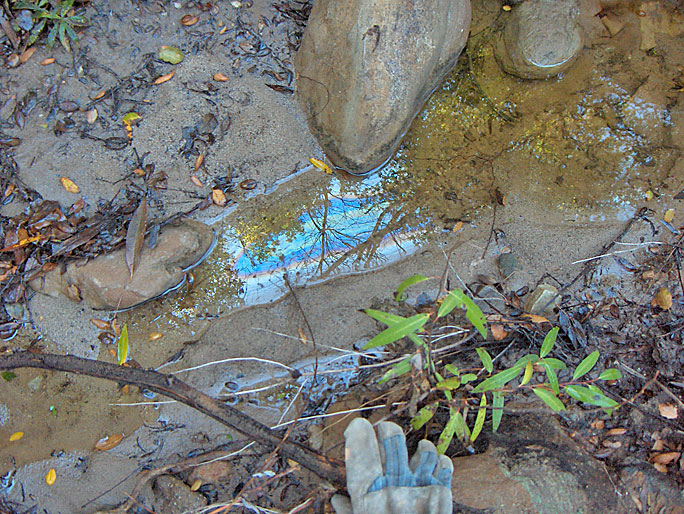 A thin layer of oil floating on the water in the creek (photo taken on 12/20/2008)
---
Oily water past the Wickham home site (12/20/2008)
---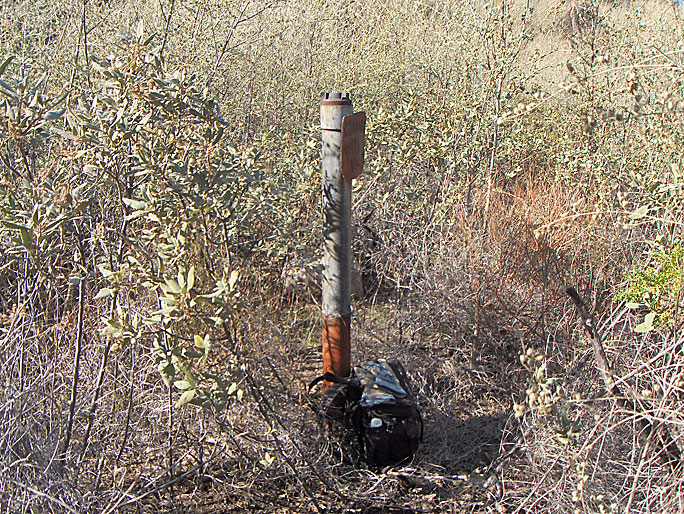 After fighting though brush often taller than me, I ran into the Cormac well site. It is overlooking the canyon on a road that starts not too far from the Wickham home site. (12/20/2008)
---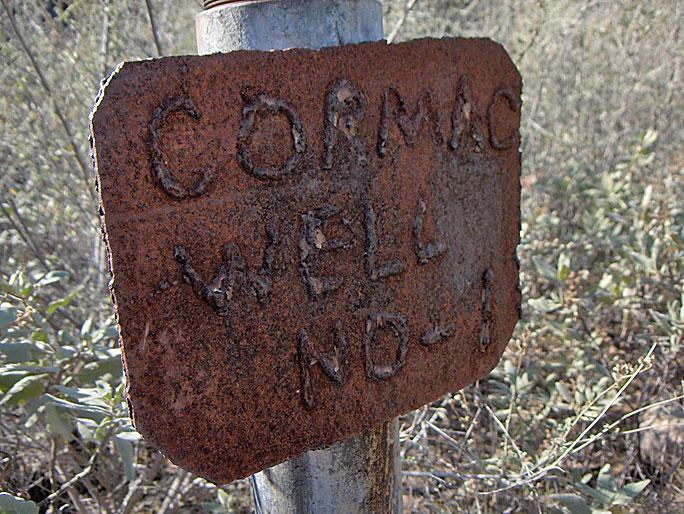 Cormac Well No. 1. The well was spudded on 10/5/1954 by the Cormac Drilling & Production Company (owned by partners W.T. Corwin and T. W. McBeath, hence Cor-Mac). The total depth was 1090 feet. The initial production was 2 barrels per day which decreased to no oil after 30 days. The well was abandoned in October of 1955. (12/20/2008)
---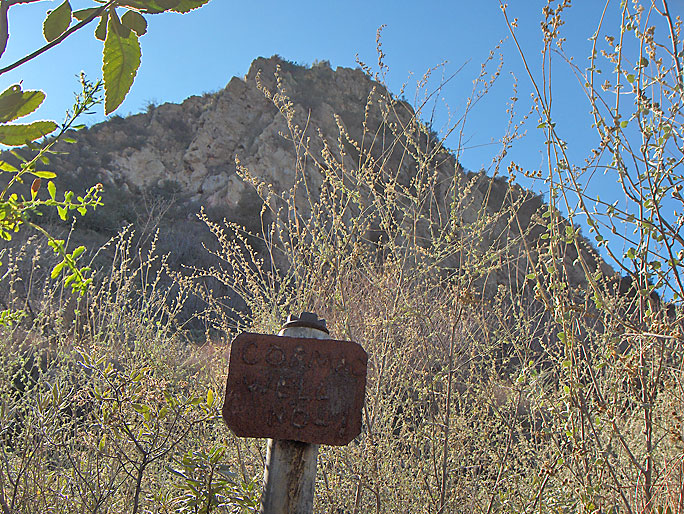 Cormac 1 is just below Sand Rock Peak (12/20/2008)
---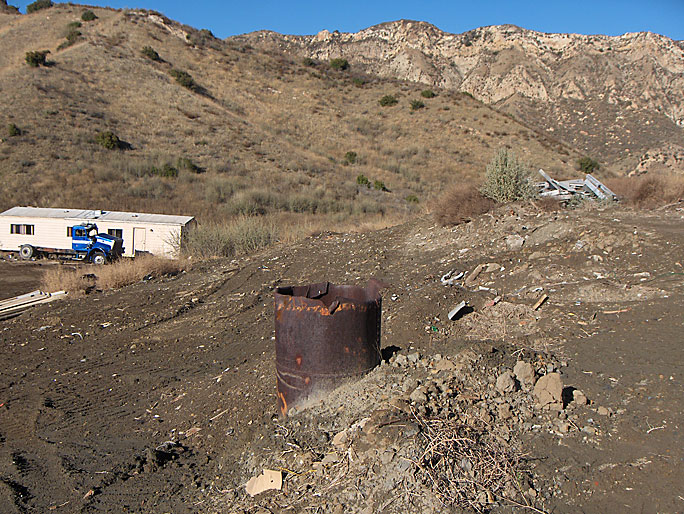 This is apparently the site of Electrological Petroleum Corp, LTD, Overman 1 well. The pipe would appear to be riveted stovepipe casing about two feet in diameter. The DOGGR only has an "Intent to Drill New Well" form from 1931. Oil scout reports state that the well was drilled to 1070 feet. It was probably unsuccessfull and abandoned in 1931. The tract map for the new Aidlin housing project shows an abandoned well at this site, so it must this one. By the end of 2014, this pipe, along with all the other stuff in the canyon, was gone. (12/20/2008)
---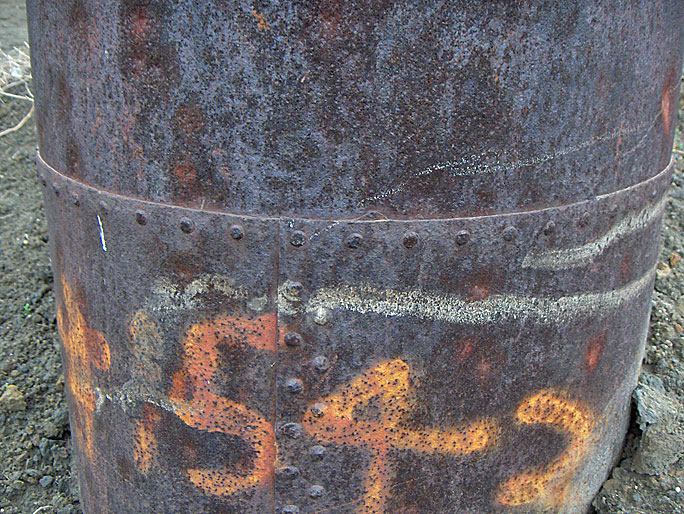 Closer view of the riveted pipe (12/20/2008)
---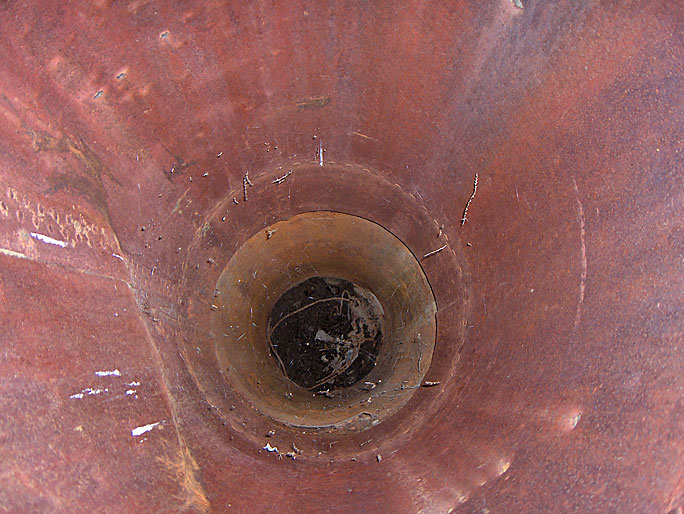 After about 15 feet, the pipe is filled with earth (12/20/2008)
---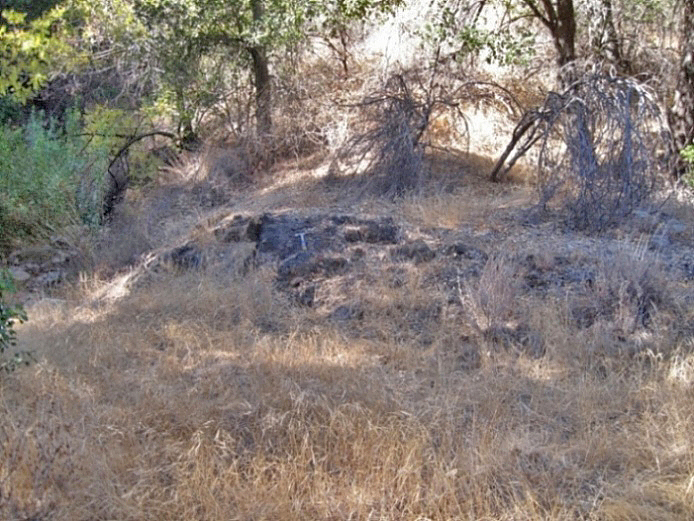 This is a dried up oil seep with my hammer sitting on it. There is no evidence of any drilling activity in the area. (10/26/2014)
---